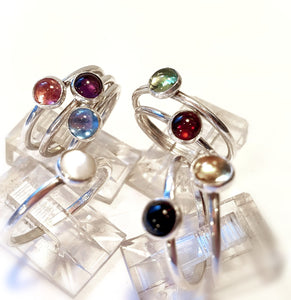 Tien the Wizard
Gemillicious Rings // 5mm
Regular price
$43.56
$0.00
Unit price
per
.
.
.
Gemillicious Rings – 5mm semi-precious gemstone cabochon
Beautifully made to order with a gemstone of your choice bezel set on a sterling silver band. This listing is for one ring; Gemstone size for this listing is 5mm.

Select your Ring Size and Gemstone Choice
For custom ring sizes and gemstones (not listed here), please contact me.

*~*~*~*~*~*~*~*~*~*~*~*~*~*~*~
Garnet (clear red) - Fire element: courage, power, creativity, strength, passion, action.

Citrine (clear yellow) - Earth element: grounding, secure sense of self, self-acceptance, wellness, joy, abundace.

Peridot (clear yellow green with slight inclusion lines) - Wood element: inner strength, resilience, flexibility, speaking your truth, heart centered love, connectedness.

Amethyst (clear purple) - Fire & Water elements: psychic powers, higher awareness, intuition, connection to source, mystical/magickal power.

Mother of Pearl (opalescent white) - Softness, clarifying, heart opener, loving, new creations.

Black Onyx (opaque black) - Earth element: protection, security, safety, repelling, contrasting, silent power, mysterious, wonder.

Blue Topaz (clear bright sky blue) - Water element: communication, flow, peace, enjoyment, ease, changing.
Pink Tourmaline (pink slightly clear translucent) - Metal & Fire elements: love of a higher consciousness, compassion, gentleness, tenderness, opened accepting. 

*~*~*~*~*~*~*~*~*~*~*~*~*~*~*~
RING SIZE
Please do NOT guess your ring size when you order. Refer to the Ring Size Guide page under FAQ's for detailed instructions on how to properly size your finger.

SHIPPING
Production time takes from 3 to 15 working days prior to shipping. If production is delayed due to shortage of raw material, I will be in touch.

CUSTOM JEWELLERY
For custom gemstones and design. Please message me for quotes and/or a consultation.
Magickal Gemmi's :)
My first magickal pieces of jewelry purchased from Tien was a pair of Gemillicious Rings a few years back. Over the years, I have added more rings to my personal Gemillicious collection. They are fantastic, magickal pieces to wear alone or stacked. Well-made with powerful intentions. Currently, I am wearing the Amethyst and Aquamarine Gemmi's (birthstones of my children) stacked. Thank you Tien!
---