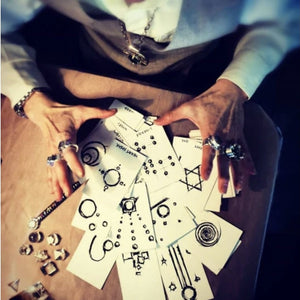 Tien the Wizard
Wizard Reading - 1/2 hour
Regular price
$85.00
$0.00
Unit price
per
Using the 3 decks of cards that I have published, I channel the wisdom of the elements, the eternal consciousness, the planets and beyond, and your ancestors.
I am an empath and speak with clear directive intention, lots of humour, light and sassiness.
My guidance is socially relevant and powerful, I see what you are up against, or what is in your vibrational reality, and give you directions, tasks and teachings to handle and take things on in a new and magickal way.   
Let me support you to clear your past, get zen present, then from now, powerfully and magickally create your life and future!
Conversations with Tien is a trifecta. So much fun! Compassionately direct. So intuitively on point. A reading through their world – view and love for people and life offers a platform of safety and encouragement. 'Meditate, fell, now move your ass!' – from his Wise and Wise Ass Sayings of the Wizard Oracle Deck.        
Nikki Bryce, Actor, Astrologer and Medium, Animal Communicator and Acupressure
Brilliant!! ✨✨
I recently had a Linar New Year reading and what an awesome experience 🌟I felt welcomed, seen and touched by Tien's magical energy. The cards that Tien drew highlighted areas of my life that I've either avoided or ignored. Tien's direct and supportive communication style was refreshing. I left feeling uplifted and empowered to take the steps to figure my stuff out. Many, many thanks Tien!🙏🏼 ❤️🙏🏼
Thank you Tien!
Tien has a way of balancing frank and clear communication with non-judgement that makes you feel right at home. He gave me solid, aligned advice that was immediately actionable in my life. My own intuition was respected and encouraged. My reading shored up my courage and confidence- I hadn't done something like this before and I'm really happy I did!
Lunar New Year reading
I got a Lunar New Year reading from Tien and found him helpful, compassionate, and genuine. I trust Tien because I know he won't tell me things I want to hear instead of giving me the tools and insight to navigate potential challenges. I also have a ring from Tien that I get heaps of compliments on.
Magick & Joy!!!
I love All of Tien's Guidance Decks! The Elemental Court Deck, The Wisdom & Sayings of the Wise Ass Wizard and am eagerly awaiting his newest creation. I am a big fan of his Magickal Symbols line! I personally own Phoenix, The Wand & my newest one, Wealth😊 I love his work ❤️
Kindred Spirits
Tien's readings are Whole & concise There are so many layers in them. There's the Elementals, the Dragon/Tiger connection & now the Fluidity of the Stars. He receives & reads without attachments. All of this delivered with his Tien Brand of Sass & Spice!
---