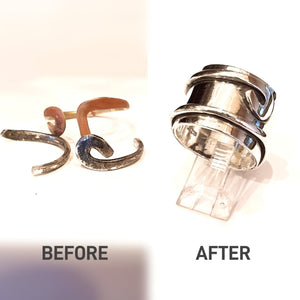 Tien the Wizard
Mum's broken engagement rings onto Solid Sterling Wide band
Regular price
$315.43
$0.00
Unit price
per
Custom design
My client's mum's partner was a silver smith and built the original bands, one of which was broken. They had their initials. My client loved them both dearly and wanted to honour them both. She initially thought to do a mend to the broken ring, but when rings break, the molecular structure is now comprised. they can be soldered back, but will always retain the memory of the break, unless it is melted completely and then rebuilt. 
As my client also loved my signature wide band styles, we chose to solder the original rings onto a wide band, thereby ensuring more integrity for the broken ring and also creating a new flowing design.
Each project is handled and reconstructed in a sacred space. Love, honour, light and spirit is always present. New vibrations are imbued, and your previous pieces are now transformed. 
---