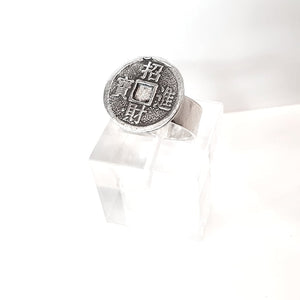 Tien the Wizard
Prosperity Coin (Small) - Ring
Regular price
$98.00
$0.00
Unit price
per
Cast Solid Sterling Silver coins. The front of the coin says 'Qin Jing Zhai Bao' - invite treasures in. Back of the coin has the legendary protectors, the dragon and the phoenix. 
Square in a Circle is a symbol used by many ancient cultures - the Chinese, Celtic and Mayans to name a few. Also popular in Sacred Geometry.
This shape is a natural magnet, the frequency of this shape is aligned with earth science wisdom to pull in, call unto oneself all things abundant and wealthy.
Ring band is 4mm wide x 1.5mm thick.
All pieces are sterling silver
Select your Ring Size
For custom ring sizes and gemstones (not listed here), please contact me.
*~*~*~*~*~*~*~*~*~*~*~*~*~*~*~

RING SIZE
Please do NOT guess your ring size when you order. Refer to the Ring Size Guide page under FAQ's for detailed instructions on how to properly size your finger.

SHIPPING
Production time takes from 3 to 15 working days prior to shipping. If production is delayed due to shortage of raw material, I will be in touch.

CUSTOM JEWELLERY
For custom gemstones and design. Please message me for quotes and/or a consultation.
---