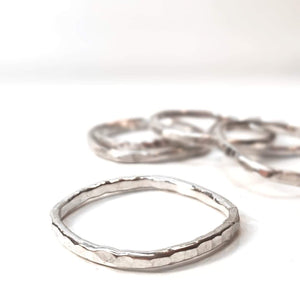 Tien the Wizard
Silly Skinnies Silver
Regular price
$25.00
$0.00
Unit price
per
Simple, textured solid sterling silver rings in a comfortable modern square shape.
Perfect for stacking with MORE silver rings, Gold-fill and/or brass
Ring is 1.5mm thick. Each purchase is for ONE ring 
The story about these rings -
By 2010, I was specialising in wide and heavy rings. I also had countless requests for little rings, leaving me always thinking 'I have been a silversmith since 1996, any first year student, or even junior high school kid can make these in their shop class, I am WAAAAAY beyond building these silly things.' 
My designer snobby self would wave it off. 
One day, I heard the universe yell at me, 'Get over your self you snotty idiot! make these rings for your people!' I grumbled, but I did listen. 
While I was building them, I kept thinking, 'These rings are so tiny and skinny (remember, I was building heavy bands at that point), they are just so SILLY!
And so the name Silly Skinnies was born.   
Lesson of this story - Get over yourself, listen when the universe yells at you! 
Select your Ring Size
Please contact me for custom ring size (not listed). For more information, refer to the Ring Size Guide page

*~*~*~*~*~*~*~*~*~*~*~*~*~

RING SIZE
Please do NOT guess your ring size when you order. Refer to the Ring Size Guide page under FAQ's for detailed instructions on how to properly size your finger.

SHIPPING
Production time takes from 3 to 15 working days prior to shipping. If production is delayed due to shortage of raw material, I will be in touch.

CUSTOM JEWELLERY
For custom gemstones and design. Please message me for quotes and/or a consultation.
---