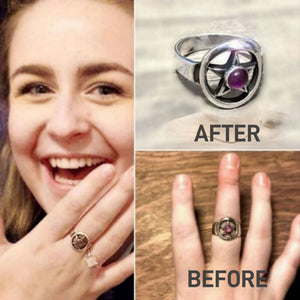 Tien the Wizard
Snug Pentagram ring altered to fit
Regular price
$60.08
$0.00
Unit price
per
Custom design.
Her beloved ring for a long time was now too snug for her. As gemstones could explode when heat is applied to solder joints together, I chose to hammer it out to fit and file down the band to slightly alter its design. 
A simple project that brought SO MUCH joy to her! 
Each project is handled and reconstructed in a sacred space. Love, honour, light and spirit is always present. New vibrations are imbued, and your previous pieces are now transformed. 
---