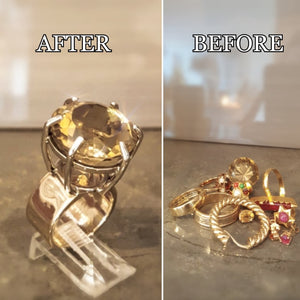 Tien the Wizard
Yellow Topaz on White Gold
Regular price
$675.93
$0.00
Unit price
per
Custom design.
This was an exciting build for me. It was my first custom build in white gold AND having to build a giant claw setting in white gold! Circa 2015
Her Yellow topaz was a massive stunner of a rock. I build the heavy band in yellow gold out of the gold she supplied, and we chose to use the topaz in a white claw so that the yellow gemstone would not get lost in the yellow gold.
I was very proud of my accomplishment! And she was of course thrilled to show off her rock!
Each project is handled and reconstructed in a sacred space. Love, honour, light and spirit is always present. New vibrations are imbued, and your previous pieces are now transformed. 
---